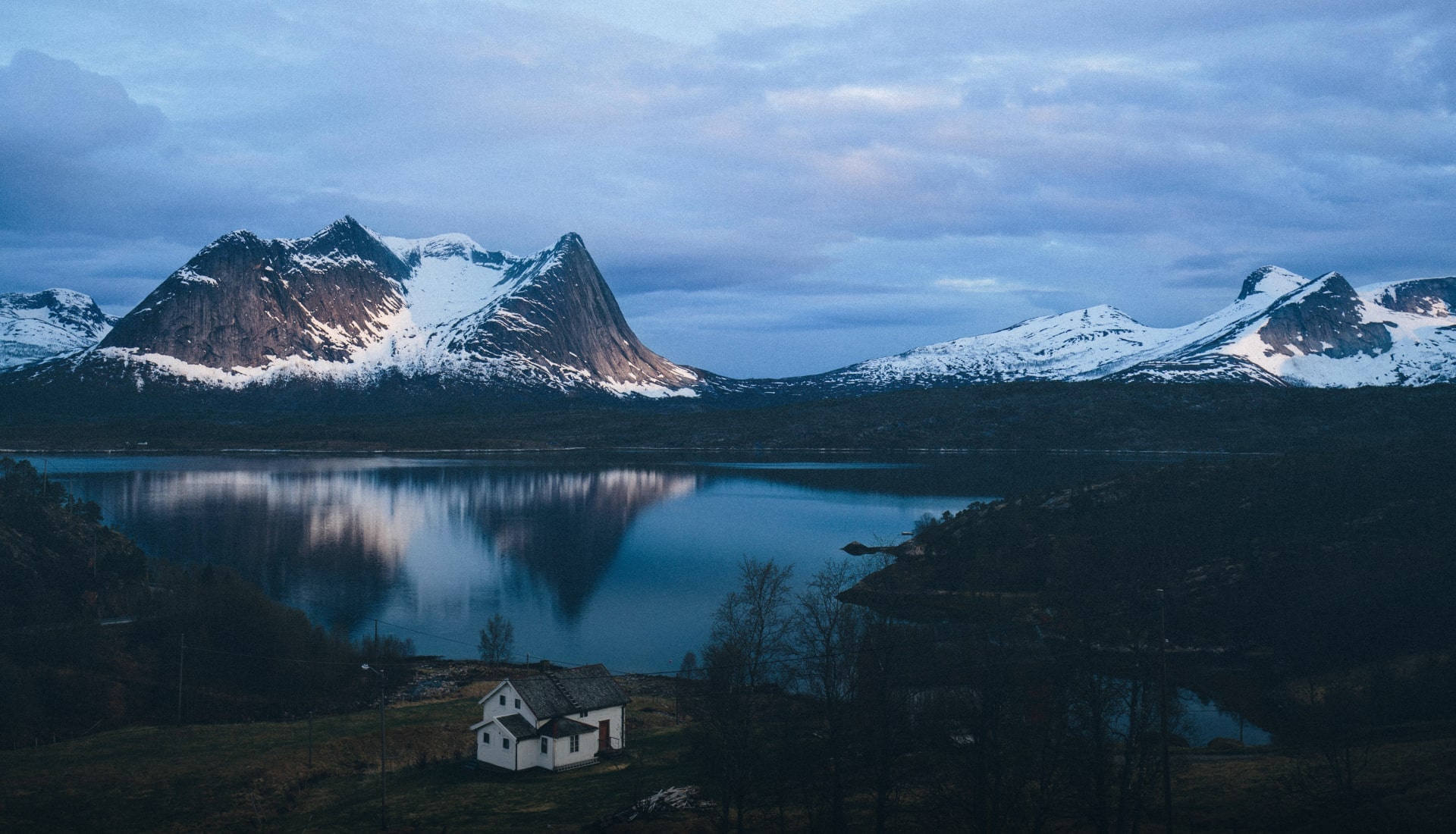 Our vision is to become the most desirable, profitable and sustainable brand house in the Nordics. This is why sustainability is part of our daily business and ways of working. The entire personnel participates in building a more sustainable business.
Manna's sustainability agenda.
Manna's sustainability focus areas and targets are built on the sustainability work of Manna's brands. Our extended Management Team approved common agenda in March 2022. We review the sustainability expectations and views of consumers and other stakeholders on a regular basis.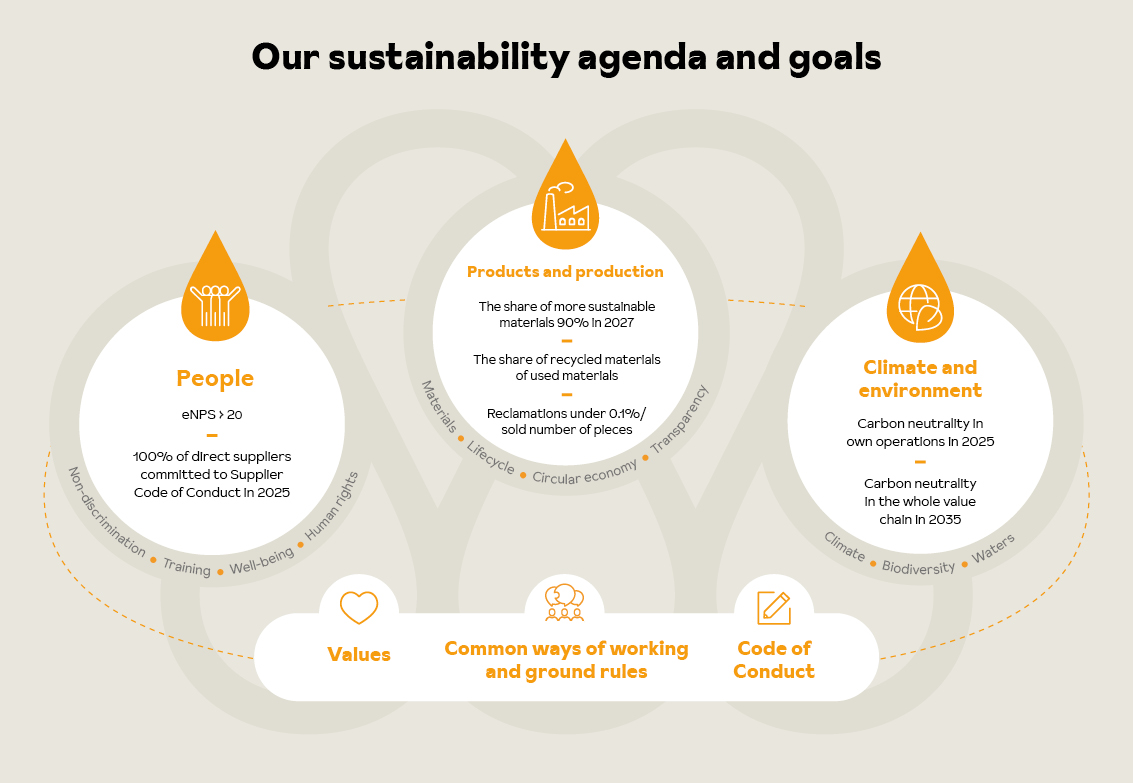 We support the UN's Sustainable Development Goals in our daily work.
These five themes in particular are ones that we can impact in our business.
Gender equality

We want to promote gender equality and a focus on the position of women has been a significant aspect in our brands' sustainability work. We do not shy away from taking a stand on issues that matter to us, such as gender pay equality, non-discrimination and the rights of girls.

Clean water and sanitation

Water is one of the key resources for the textile industry. Water is used all the way from growing cotton and other materials to manufacturing the end product. In addition, consumers regularly wash our products. We review the impacts of our operations on waterways and work to reduce water consumption and the load on water bodies at all stages of the value chain, for example, by using more sustainable materials that place less of a load on the environment.

Decent work and economic growth

We take care of our personnel and our partners' employees as part of our value chain. We have a commitment to respect and promote all globally acknowledged human rights in our operations. Decent work is an important value for us.

Responsible consumption and production

The manufacture of our products uses up a lot of natural resources. Our goal is to reduce our environmental impact by increasing the use of sustainable materials in production and by using packaging and logistics solutions with the least emissions possible. We focus on the quality, durability and safety of products and tell consumers about more sustainable alternatives and practices.

Climate action

We have clear goals for reducing the greenhouse gas emissions caused by our operations. The key actions to cut emissions are using renewable energy and replacing cotton with lower-emission materials. Together with our partner network, we also strive to reduce the indirect greenhouse gas emissions (Scope 3 emissions) created in our value chain.
Responsible management.
At Manna, sustainability is in the core of our business. The foundation of sustainable and responsible business is built on our own actions and ethical working culture. To nurture this, we have created our Code of Conduct, which concerns all of us. To support our Code of Conduct, we have also created Supplier Code of Conduct, which is based on amfori BSCI's principles and translates our internal guidelines to expectations towards our business partners. This is how we aim to ensure that our partners follow the same principles in their operations as we. The roll-out of our Supplier Code of Conduct to our partner network starts in January 2023.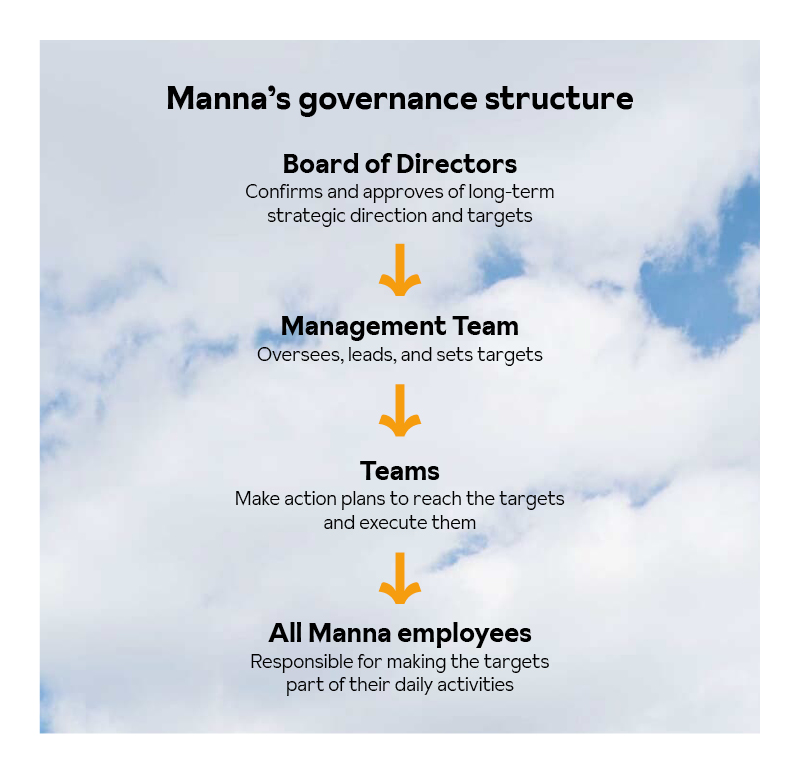 Products and production.
Our goal is to increase the share of more sustainable materials in our brands' consumer business products to 90 percent by 2027. In 2022, the share of more sustainable materials, which include recycled raw materials, ecological natural fibers (linen, hemp), more sustainable cotton (GOTS, BCI, Fair Trade), sustainable regenerated fibers (e.g. lyocell) and new materials (e.g. wood fiber-based), of the materials used was already more than 50 percent.
We are committed to manufacturing products that stand the test of time and withstand wear and tear. An example of this is Finlayson's five-year warranty on all of its duvet covers and towels and its 50-year warranty on the duvet covers and pillowcases in its Jesus product range. Our goal is to keep our products' defect claims at less than 0.1% of the number of products sold.
We develop our business based on circular economy, collect used products from consumers and direct them for reuse in our products or our partners' products. We extend the lives of our products through repair services and by developing our secondhand concept. In 2022, we collected around 10 tons of recycled material at Finlayson's stores. Our goal is to also increase the share of recycled materials in the materials we use.
Another goal is to be the most transparent home textile, fashion and consumer goods company. We aim to  expand the transparency of our supply chain to encompass all our consumer goods.
In 2022, our brands used materials as follows
* of all used materials
Finlayson

2022

2022

2021

2021

kg

%*

kg

%*

Organic cotton

625,543

62.3

797,350

63.2

EuroFlax linen

42,510

4,2

0

0

Recycled materials

24,547

2.5

24,450

1.9

Tencel

10,338

1.0

9,652

0.8

Ecovero viscose

951

0.09

0

0

Hemp

767

0.08

486

0.0

Jute

121

0.01

0

0

Linen

0

0

35,885

2.8

In 2022, the share of more sustainable materials of all materials used by Finlayson was 71.1% (2021: 68.8%).

Lexington

2022

2022

2021

2021

Kg

%*

Kg

%*

Organic cotton

37,980

8.4

47,110

8.5

Other more sustainable materials

36,779

8.1

34,340

6.2

Earthenware ceramic

8,399

1.9

11,248

2.0

Linen

8,007

1.8

7,215

1.3

In 2022, the share of more sustainable materials of all materials used by Lexington was 20% (2021: 18.1%).

Makia

2022

2022

2021

2021

kg

%*

kg

%*

Organic cotton

90,527

52.5

87,443

54.4

Organic wool

1,944

1.1

-

-

Recycled polyester

50,431

29.3

38,828

24.2

Recycled cotton

2,708

1.6

3,646

2.3

Tencel

2,284

1.3

3,181

2.0

Ecovero-viscose

333

0.2

2,267

1.4

Recycled merino wool

0

0

424

0.3

Recycled polyamide

0

0

340

0.2

Recycled cashmere wool

0

0

42

0.0

In 2022, the share of more sustainable materials of all materials used by Makia was 86.0% (2021: 84.8%).

Vallila

2022

2022

2021

2021

kg

%*

kg

%*

Better Cotton

290,647

44.9

334,070

31.7

Recycler polyester

75,567

11.7

53,121

5.0

Recycled polyamide

463

0.07

2,812

0.3

Linen

0

0

1,027

0.1

In 2022, the share of more sustainable materials of all materials used by Vallila was 56.7% (2021: 37.1%).
The environment and climate.
We are committed to the following goals in mitigating climate change:
– carbon neutrality for our own greenhouse gas emissions (Scope 1 and 2 emissions) by 2025 and
– for the whole value chain (Scope 3 emissions) by 2035.
In 2021, approximately 97 percent of our greenhouse gas emissions came from Scope 3 emissions, i.e. the supply chain and materials. Our objective is to reduce these emissions together with our partner network by, for example, increasing the use of environmentally friendly materials. Materials that are better than average for the climate include organic and recycled fiber, hemp and linen. Another major source of emissions is energy, which is why we encourage our partners to utilize renewable energy sources.
Water is one of the key resources in our industry and we want to do our part in protecting waterways. We will review our water footprint by 2025 in order to better understand the impacts of our operations and set targets for our water consumption based on the results. We support the protection of waterways in near-lying areas and, for example, Makia donates part of its revenue from its Saaristo collection to the Keep the Archipelago Tidy Association (Pidä Saaristo Siistinä ry).
In addition, we are looking into opportunities to review the biodiversity footprint of our operations, in order to set concrete targets related to conserving biodiversity.
Identified GHG emissions 2022 (Scope 1, 2 and 3)

Emissions, t CO2e

1/2022-1/2023

2021

Scope 1

108

80

Scope 2

622

849

Scope 3

26,120

33,962

Total

26,850

34,890

Estimation of the share of identified emissions in the total emissions

Materials

1st tier manufacturing sites

Finlayson

100%

65%

Lexington

100%

70%

Makia

100%

53%

Vallila Collection

100%

43%

Vallila Contract

N/A

N/A

Vallila Marine

N/A

N/A

The table describes the share of emissions identified from each brand's emissions.
People.
We are committed to treating people equally and fairly and ensuring that our supply chain respects human rights. We have a zero-tolerance policy towards discrimination, and we are committed to promoting equality in both our own work community and the entire value chain. Twice a year, we conduct a personnel survey, and once a year a pay equity analysis.
We invest in our personnel's training, development and wellbeing. We hold performance and competency discussions and create personal development plans with each employee. During 2022, we will build joint occupational health and well-being at work practices. We will consider, for example, how we can best support mental health and good work ergonomics in our work community and prevent more serious problems from occurring. Additionally, we will boost our personnel's knowledge of sustainability issues through in-house training, to enable them to explain the issues in more detail to our customers.
We have assessed the human rights impact of our supply chain and we monitor the realization of human rights through discussions and audits, and by requiring suppliers to commit to our sustainability principles. We audit our partners operating in risky countries through a third party, mostly amfori BSCI. Our other partners are SA8000 and SEDEX. We will continue our work to achieve improved transparency in our supply chain, and our goal is to ensure the traceability of our brands' supply chains all the way to the origin of the raw materials by 2027, and to communicate this information openly to our stakeholders. We will extend the assessment of human rights impacts to our licensed manufacturers in the future.